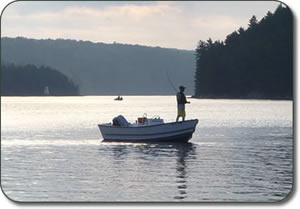 If you choose to build a boat, starting with our wooden boat kits of pre-cut parts machined in our workshop in the Portland, Maine, area, construction of a basic Standard model can be completed in as little as 200 hours. Set up as a tiller-steered open boat or a center console, the Standard is ideal an inshore fishing boat, day boat, cruiser, beach camper or small work boat.
The larger Widebody and Jumbo wooden boat kits will take longer to build, but are large enough to support full cabins and pilothouses for extended cruising or offshore fishing.
Besides being lightweight and fuel efficient, the best thing about these boat designs is that once the basic hull is finished, these wooden boat kits can be finished off to suit the needs of each individual builder. So whether you are boating in Portland, Maine, or Portland, Oregon, your Tolman Skiff can be finished to suit your needs.
If you choose to build a boat, the Salt Water Workshop can help you get a start on your very own Tolman Skiff in three ways:
Buy a BOOK OF BOAT PLANS which include drawings and instructions to build a boat in all three boat designs
Buy one of our boat kits of PRE-CUT WOODEN PARTS to assemble the basic hull. Call or email for pricing
For questions and inquiries, don't hesitate to email us using the CONTACT FORM, or call us at any reasonable hour at 207-837-0236.